Posted Wednesday, June 3rd, 2015 at 16:00
Yes, it's Royal Academy Summer Exhibition time again, the Start of the Season, and the latest news in my personal battle with unimaginative or fearful artists who persist in drearily calling their works "Untitled."
There were 26 of them this year, out of a total of 1,131 exhibits. Things are improving; that's a 21% fall on last year. It must be my influence. And another sign of my increasing persuasiveness in the art world — no fewer than 14 of the artworks had Welsh subject matters, almost as many as there were of Venice. That has to be down to me. There's lovely, yes?
One of the more disgusting of the Welsh subjects was a photograph of the flooded interior of Gaewern Slate Mine, a C-type photographic print by Robin Friend. I can't show it to you here, because it's a huge image and to see it smaller reduces it to incomprehension. The cavern has become a tip for wrecked cars, a Fuck The Environment statement. So sad. The photograph depicts the awesome scene in fantastic detail.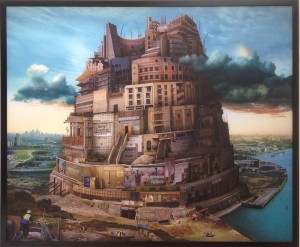 Breughel's Tower of Babel is an image recognised in all civilised countries. I was surprised to notice it in the Summer Exhibition, until I cleverly spotted it was a photographic montage, Babel London (after Breughel) by Emily Allchurch, beautifully done to mock the follies of the City.
I loved a translucent acrylic chess set, Franklin's Morals of Chess (Jade) which pitted London's new architecture — the Shard, the Gherkin, the Walkie-Talkie — as black versus the white of the old — the Tower, St. Paul's, Westminster Abbey.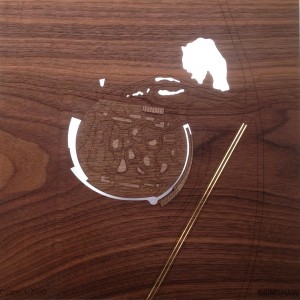 My friends Mike & Martha would no doubt appreciate an intaglio plan of Croton Water Filtration Plant, New York, USA by Sir Nicholas Grimshaw, beautifully constructed of wood with etched metal and alas not for sale.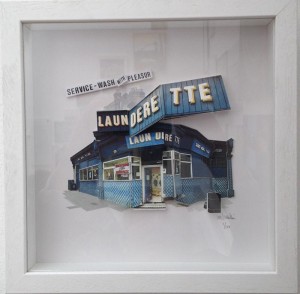 I was amused to see our local Stroud Green launderette, on the corner of Ferme Park and Stapleton Hall Road, now appears as a work of art, Launderette, a mixed media collage by Dominic Mallin and Laura McEwen. It was hideous when it was reskinned in the 1980s and has become even hideouser now. But the artwork is only £190!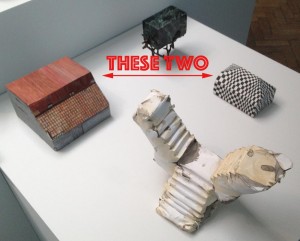 But of course the showstoppers were two sheds by the acclaimed Richard Bounford (who he?). My mate Trevor does alarmingly similar work and when he tracks this Richard feller down there'll be hell to pay.
As always, it's a wonderful, unmissable show. Go and see it.
The Royal Academy Summer Exhibition runs from June 8th to August 16th at The Royal Academy, Piccadilly, London W1J 0BD.