Posted Tuesday, March 1st, 2016 at 15:41
There is a
new war memorial
at the National Arboretum in Staffordshire to the 47 gallant British servicemen killed in the first Gulf War.
I approve wholeheartedly, and would have supported the endeavour in some way had I known about it before.
But they have spoilt the ship for a ha'porth of tar.
When creating the inscription, they employed a translator to turn it into Latin, but they omitted to employ a typographer for a few pounds more. This is what they ended up with: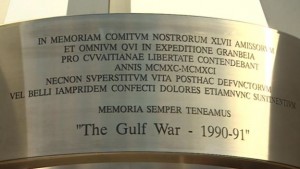 It's set in Times New Roman. That could have been someone's choice, until you see the quote marks, dashes, kerning — or lack of any of them.
Nobody chose Times New Roman. Someone has typed it out and handed it as it was, unthinkingly, to the manufacturer. It is appalling. It is cheap. It is nasty. It is thoughtless. It is undignified.
They've used the first font that opened on their machine. I'm astounded it wasn't Arial. They have used typewriter quote marks instead of typographic quote marks, so they chose

here set in Bulmer instead of Times. But why use quotation marks at all? What are they doing here? They are not required here; this is simply ungrammatical. This is potatoe's.
And look at the dashes. They are not dashes; they are hyphen-minuses, only to be used by typewriters. Typographers have a choice of em dashes, en dashes, quotation dashes, hyphens, minuses and no doubt many more I haven't heard of — a plethora of dash marks. They have different widths and different lengths for their different purposes. All ignored here, of course. The hyphen-minus will do — what more do you need?
I would have proposed something like this. Trajan is almost unbeatable for inscriptions, and a little letter spacing adds the simple majesty a war memorial requires. Forget the quotation marks, and note the completely differing dashes:
I'm sure the last thing the organisers wanted was an undignified tribute in hackneyed old Times New Roman. But they didn't know any better. And our soldiers deserved better.
When I presented my brother-in-law Andrew, a former British Ambassador, with my book The Encyclopaedia of Fonts, he responded "I never knew there was more than one."
Andrew didn't tell me whether he was on the Inscriptions Committee.