Posted Monday, November 14th, 2016 at 14:07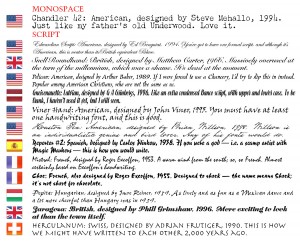 Click to enlarge.
MONOSPACE
Chandler 42: American, designed by Steve Mehallo, 1994. Just like my father's old Underwood. Love it.
SCRIPT FORMAL
Edwardian Script: American, designed by Ed Benguiat, 1994. You've got to have one formal script, and this is neater than Palace.
Snell Roundhand: British, designed by Matthew Carter, 1966. Massively overused, which was a shame. It's dead at the moment.
SCRIPT MISC
Pelican: American, designed by Arthur Baker, 1989. If I were forced to use a Chancery, I'd try to slip this in instead.
Gneisenauette: Latvian, designed by G A Grinbergs, 1996. Like a condensed Banco script, with u/lc.
SCRIPT HANDWRITING
Viner Hand: American, designed by John Viner, 1995. You must have at least one handwriting font, and this is good.
Houston Pen: American, designed by Brian Willson, 1998. Willson is an individualistic genius and bird lover. Any of his handwriting fonts would do.
DISPLAY SCRIPT
Reporter #2: Spanish, designed by Carlos Winkow, 1938. If you were a god — i.e. a scamp artist with Magic Markers — this is how you would write.
Mistral: French, designed by Roger Excoffon, 1953. A warm wind from the south; so, so French.
Choc: French, designed by Roger Excoffon, 1955. Designed to shock — the name means Shock, not chocolate.
Pepita: Hungarian, designed by Imre Reiner, 1959. As lively and as fun as a Mexican dance.
Zaragoza: British, designed by Phill Grimshaw, 1996. More exciting to look at than the town itself.
Herculanum: Swiss, designed by Adrian Frutiger, 1990. This is how they wrote to each other 2,000 years ago.