Posted Wednesday, December 5th, 2012 at 12:55
My MacBook Pro has had its quintuple bypass, and I'm back in communication with the world on a far faster machine. I can only occasionally retrieve my backups though, which could be a pain. I'll have to look into it.
While the Mac was in Hozzy, I went to lunch at my current favourite restaurant, 't Notarishuys in Diksmuide. It's a bit of a schlep to get to, but it's worth it. This is the second time we've been this year.
Amuse-bouches
Lord, let me live a little longer so I can eat these again.
Rillettes van wilde eend
Sinaasappel – wortel – brioche – broccoli
Wild duck pâté does not begin to describe this.
Mangalica ham
Exclusieve ham van het authentieke Hongaarse varkensras "Mangalica"
– gedurende 18 maanden gerijpt in Monte Nevado (Spanje) –
geserveerd met een toast met tapenade en gemarineerde tomaat
I can guarantee that you will never have eaten ham as tender and delicious as this. It is truly astounding. Made from a woolly pig.
Ragout van hert
Schorseneren – camembert – appel – bruin bier
Never tasted a tenderer or more delicious venison stew.
Koffie & banaan
Karamel – macaron – Equador chocolade
Not for me, but apparently superb
Crème brûlée
klassieker – vanille uit Madagaskar
What can I say? Deservedly the classic pudding.
And this is me and the 'tache afterwards: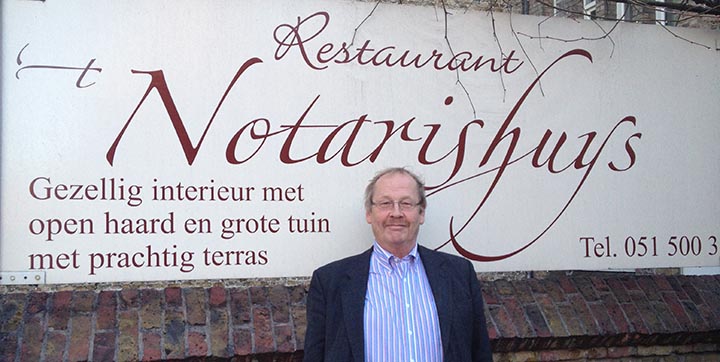 If you don't know what this is all about, The World's Most Hairless Man (that's me, Gwyn Headley) is attempting to grow a moustache during November in aid of prostate and testicular cancer charity Movember. If you would care to donate, it's easy — just go to http://mobro.co/gwynheadley and click on DONATE TO ME under my bald lip. I will be very grateful.