Monday, August 18th, 2014
We had a fantastic Sunday in Kent with our old friends Derek and Jenni Cross yesterday — a delicious lunch at Thackeray's Restaurant in Royal Tunbridge Wells, followed by calvados in their Brenchley garden in the sunshine. Very pleasant. (Yes, we went by train).
Derek was my boss at William Collins in the 1960s, and we shared anecdotes, as old farts do. One I hadn't heard dated from 1965, when Collins published a little book called "Kiki The Mousebird."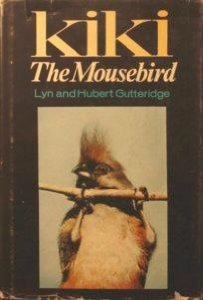 Clearly Collins were planning a big publicity push for the book, because they invited the authors Lyn and Hubert Gutteridge to the sales conference, and they proudly bought the actual Kiki The Mousebird with them.
The room was thick with smoke and sweaty jacketless sales reps, alternating between cynicism and boredom.
The sight of the bird cheered them up. One of the salesmen at the back, wiping his brow, declared "Christ, it's fucking hot in here!" and opened a window …