Monday, November 23rd, 2015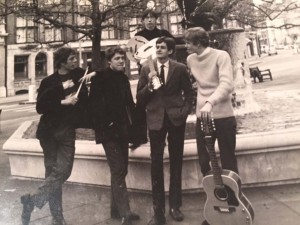 The Sloane Squares in Sloane Square in 1965, in the pre-Pete Gage days.
L to R: Lloyd Powell (drums), Fred Taylor (vocals and harp), Nigel Hill (bass), Cuthbert Fry (rhythm), Gwyn Headley (lead). Photo by Jennifer Dibben, who became Jennifer Brend and a much better photographer (zeugma).
For Cameron Brown's interest: Framus bass, Harmony 6-string, Hoyer 12-string.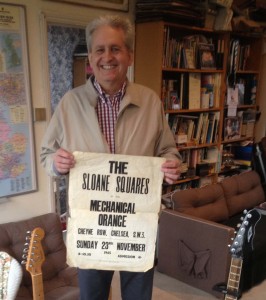 Fifty years later here's Cuff (now Peter) Fry* with a surviving poster for the Mechanical Orange in Chelsea 50 years ago TODAY, where we once played with John Lee Hooker.
And for Pete Gage fans (there must be some somewhere out there?) here's Pete and Nige during a break in a gig with Rosie and Rosie, or so it says on the back of the photo. Who they? I know the gig was at Teresa Lockyer's house. And where she now?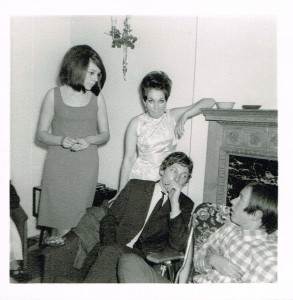 *Well, he always was Peter, really; I don't know where the Cuff came from.