Monday, March 7th, 2016
We've just come back from a wonderful weekend with friends in Norfolk. Staying with friends is an unalloyed delight until the time comes to leave. Even if the delight was alloyed in any way, it will be as nothing to the gut-churning misery induced by mine host popping his head cheerily round the door in the midst of your packing and asking "Would you mind? It's silly, I know, but it's become a sort of tradition for us. Just a few words! Nothing special!" And there I stand, a pile of knickers in one hand, shaving stuff in the other, trying to transfer them into one hand so I can accept the proffered tastefully leather-bound Smythson (it's only ever Smythson) visitors' book.
I once spent three days in the French village of Hautrives, in the Drôme, long before the days of the internet. I was there doing a TV programme for the Discovery Channel about the world's greatest folly, the Palais Idéal of the Facteur Cheval. If you like follies, even just a little, then a visit is mandatory. It is simply spectacular. I've seen more follies than most, and this is unquestionably Number One.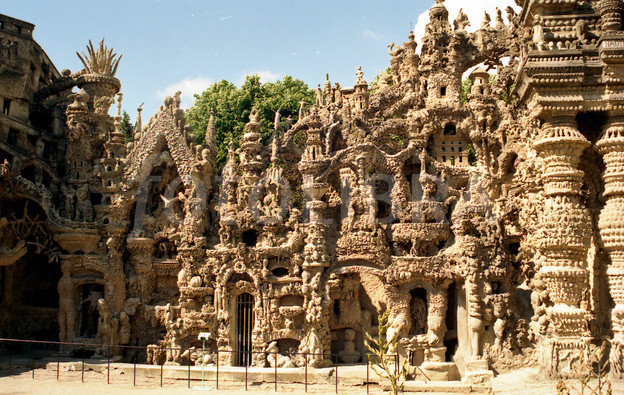 However television programmes take a long time to make, and this gave me plenty of thinking space, which in turn led to a revelation. People have puzzled over the postman Ferdinand Cheval's motives and reasons for years — what drove him to create this masterpiece? The answer grew inside me over 72 hours, and finally it manifested itself: there is bugger all else to do in Hautrives. It is the most boring village in France, and that is saying a lot.
The lovely Carey-Ann Strelecki, the programme's director, was busy all day on placement shots and only had time for me in the evening. When I wasn't nursing a cheap beer I passed most of the day with the genial Pascal Cambrillat, then the Directeur of the Monument, comparing the cocoa mass of different chocolates. This was before the internet, remember. Nobody did anything.
While rootling around in Pascal's office I discovered the Registre des Visiteurs, the Visitors' Book (not by Smythson) for the Palais Idéal. The first entry was January 1st, 1905, before the Palais was anything like the size it became, and it was from a Jules Pangon, Docteur de Médecin de St. Vallier (Drôme), who wrote "De plus en plus enthousiasme pour la beauté et originalité incomparable de ce Palais Imaginaire" (More and more enthusiastic about the unmatched beauty and originality of this Dream Palace). Evidently this ran in the family, because Dr. Pangon was Pascal Cambrillat's great-grandfather.
I leafed through the book. In the early days everyone who visited inscribed their name; later, with the rise of mass tourism, it was reserved for more distinguished visitors. In that first year there was a visitor from Monaco; a visitor from Lucca in Italy, one Isola Fortuna (Happy Island?); a traveller from Constantinople; the Marquis du Briand, and some strangely named people from London — a Mr J Chardonnet, S Woeskott and Chartrose Cloves (really?). There was a Walter Wrackmeyer from Germany and then some more realistic English names: F E Ward from Leatherhead, Mrs C F Olive from London, Dorothy and Peter Ridley from Chelmsford, Lewis MacPherson from Manchester — all in 1905.
Then the great and the good of France paraded through the pages. I fast-forwarded closer towards my era: Lawrence Durrell on May 6th 1961; Eric de Rothschild, Paris, on January 1st 1962; Ian and Judy Nairn, October 21st 1961, who wrote "Avec toute mon admiration pour ce travail immense." (With all my admiration for this huge work).
Niki de Saint Phalle and Jean Tinguely visited from Paris on January 31st 1963. The visit inspired Saint Phalle to create the Giardino dei Tarocchi in Grossetto. In March 1965 Michael Gill the BBC film director was there, followed the succeeding year by novelist John Berger, hailing from Geneva, with the artist Lionel Miskin from Mevagissey.
Two final names were spotted: on May 22nd 1982 Susan Sontag wrote "Un rêve depuis vingt-cinq ans, enfin accompli,"  (Finally, after 25 years, a dream fulfilled) and five years before he died the idiosyncratic Austrian architect Friedensreich Hundertwasser commented on July 25th, 1995 "Un but dans ma vie." (A goal in my life).
But then they didn't have to spend three days there.