Posted Friday, January 1st, 2016 at 15:05
VOCABULARY
MVR
HARLECH
CHARIVARIA
WORK
PLAY
'ELF & SAFETY
THE LONG ARM OF THE LAW …
SPROT
ACQUISITIONS
EPIPHANIES
FURRIN PARTS
FUR IN PARTS
PEOPLE
CHRISTMAS
VOCABULARY
Best new word learned this year: Petrichor: the smell after fresh rainfall on dry ground. Isn't that a grand word? In a bizarre coincidence, it appeared as a question on yesterday's Christmas University Challenge. The team didn't get it.
MVR
The hall was redecorated in May while we were on hols in Spain. New stair and landing carpet laid. The old Wilton Grenadier lasted 30 years, so can't complain.
Tuesday 30th June was an exquisitely beautiful day. Sharp, clear blue sky, 85°F, gorgeous, the day we moved into the front bedroom while our bedroom was redecorated.
We had no idea that for 30 years we'd been sleeping with our heads up against a 1950s mantelpiece.
After 101 days we move back into our bedroom. It is stunning, like walking into a library.
HARLECH
Great news that Rod & Chris decided to move up in the world, and after 25 years living in Venice they have relocated to Porthmadog, so now we have good friends nearby.
An Everest salesman comes round. We will NOT have disgusting uPVC windows. So (at thrice the price) we get new timber windows all round the first floor and the kitchen.
Build new website for Murmur-y-Don at harlech.org. G discovers websites are much easier to build now than they were in 1993. Now it's all cut and paste; everything comes as a template.
Put Harlech on Airbnb, Housetrip and Wimdu as well as our own site.
At the peak of the holiday letting season in August we have a frantic lost week in Harlech — we find ourself in the house overseeing strimming, scaffolding, drain clearance, oil delivery, handyman, weathervane removal and new window fitting. All the first floor windows have now been replaced with replica timber double-glazed windows. And in the kitchen, too. It's nice to be able to open a window now. Friends and family tell us to be sure to have a lovely break whenever we go to Murmur-y-Don. Hmmm.
The new Welsh Dragon weathervane is measured against the old cast-iron device.
New one: weight 8 lb, height 2 feet. Old one: weight three-quarters of a hundredweight, height 5′ 4″. We decide to have the old one restored and replaced.
End of October: Great video made by great-nephew Tim. Restored weathervane reinstalled in Harlech.
Letting successes: Harlech.org 4 weeks, Airbnb 4 weeks, Wimdu 1 week, and Housetrip 0 weeks. At the end of the year, finally managed to sync calendars across all four web sites. Phew.
CHARIVARIA
G's letter to the Daily Telegraph — "I knew a man who knew a man who fought at the Battle of Waterloo" — is published as their lead letter in the week of the 200th anniversary of Waterloo.
G is featured in the book Dull Men of Great Britain, as one of the 30 dullest men in the country. Coincidence?
We buy a new black mohair roof for Y's elderly MGF, with a heated glass rear window. There's posh, yes?
WORK
We lose our biggest client at the end of June. Times are not good for regular picture libraries. As a direct result, and with enormous regret, we part company with Graham and Llinos.
Heritage Ebooks publishes James Stevens Curl's The Victorian Celebration of Death. Heritage Ebooks sign a deal with Ingrams and the first PoD (Print on Demand) title Follies of Wales will be published in February 2016.
PLAY
Rubens at the RA. Richard Siebenkorn at RA. Summer Exhibition at the RA.
Went to see the brilliant Amy movie at the Art House in Crouch End. Great resource, that little theatre. Also saw the new James Bond there.
The Woods Cry Out, Sue's superb and moving WWI celebration of remembrance with Iain & Gill.
We see a magnificent dress rehearsal of ENO's The Mikado at the Coliseum, courtesy of Rosie.
'ELF & SAFETY
In May hay fever kicks in big time for G and lasts till mid-July.
Other than that, we're both fine. G completely lost his sense of taste and smell in 2014 but after a long course of Flixonase nasule (no, that is correct) drops it returned in fits and starts round September. It's pretty good now. At last he can distinguish between Grand-Puy-Ducasse and Grand-Puy-Lacoste again. Except today at the end of the year, when Von has a tiny sniffle and G has full-blown Man 'Flu.
THE LONG ARM OF THE LAW …
finally reached out in August to deal retribution on the garage which broke the Phaeton's V10 engine. G was in court all day while Broady was taking 8 for 15. The garage paid in full, plus costs, but when the cash finally arrived our solicitors suddenly remembered they'd forgotten to bill us for some additional costs. They deftly abstracted a further £2,865.30. So after nearly two years of stress, fear, anxiety and worry, effectively we lost.
SPROT
6 Nations: Wales v England. G's team lost. And in Cardiff! Will we ever beat them again? Gloom and depression.
May: England v New Zealand at Lords; G with James, Bill & John.
August: England win the Ashes. Elation! Kept Broad's 8 for 15 at Trent Bridge on non-delete recording.
September: Gloucester vs Surrey at Lords with Marcus & Sandra, courtesy of the lovely Rosie.
World Cup. G can think of little else. Japan beats South Africa. The world is turned upside down.
October: Wales beats England at Twickenham in the World Cup. All is now right with the world. G can die happy. Wales only progresses one game further, but that's unimportant.
ACQUISITIONS
Von gives G spiffy Nikon DSLR for birthday.
After a couple of weeks spiffy DSLR goes back to retailer because exposures are all awry.
8 weeks later the spiffy DSLR is returned. No problem with it, except that the owner forgot he'd left the bracketing setting on.
Go to Major Owen in Penrhyndeudraeth to buy cheap strimmer, max budget £150. Emerge £450 lighter with Stihl professional brushcutter. Who says we don't have great salesmen in Wales? Delighted to discover that Americans call strimmers Weed Whackers.
G gets a Boss RC-30 loop pedal. Denny in Maryland will understand.
We've always wanted a Cedar of Lebanon. But we've nowhere to put one. So together with John & Margaret we purchase one and donate it to Shaunagh & Crispin (see FURRIN PARTS> La Bisbal d'Empordà below). Together we found CLASS — Cedar of Lebanon Appreciation SSociety.
EPIPHANIES
At the end of this year G thinks he can say his sense of taste and smell has now finally returned. We shared four epiphantastic moments: the snails in Peratallada, the potato crisps in Havre de Grace, the oysters in Criccieth, and simple yet breathtaking fish and chips at Brady's of Smugglers Way in Wandsworth. All were the best we've ever had. And in Manhattan G discovered the delights of the Pisco Sour.
FURRIN PARTS
Paris
In the wake of the Charlie Hebdo murders we went to Paris for Von's birthday. We visited the Fondation Louis Vuitton, the Villa Savoye, the Marmottan Monet, le Petit Palais, the Musée Jacquemart-André, les Arts et Metiers; we had dinner with Von's cousin Mike & wife Lis; then with G's first girlfriend Claudine, and on Sunday we went to the American Cathedral on Avenue Georges V with Lis, followed by lunch with her. Mike is a verger at the Cathedral, despite living in Switzerland.
Bergues
On a booze cruise to Belgium we stopped off at Bergues to have lunch with James & Jill. The death of an elderly man at the next table didn't deter his pals from continuing to enjoy their convivial lunch. Nor us.
La Bisbal d'Empordà
A wonderful mid-May holiday with John & Margaret, with many, many thanks to the nonpareil Shaunagh & Crispin.
USA
See the blog!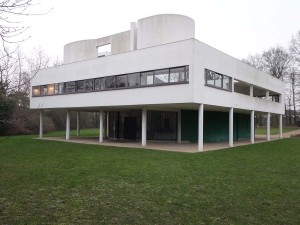 Saw both these quite well-known houses within 6 months of each other.
Frankfurt
G drives out and back by himself — no Shatzkin asleep in the car.
FUR IN PARTS
Milo The Dog
Milo becomes a Buzzfeed sensation. This is a great article — try and read it!
And here's more Borrow My Doggy news. Aileen writes:
Meeting Milo, Yvonne and her husband was without a doubt the best thing about moving to London. Everything in Milo's profile is true, especially the bit about his good looks! Yvonne was incredibly accommodating, and would let us take Milo for short walks, half- and whole days. He has a wonderful nature, is well trained, and fantastic around other dogs. I've now left London, but still keep in touch with Milo, and take him out whenever I can!
Bembo The Cat vs. MVR Squirrels
P3 W2 D1 L0
£86 in vet bills, Von's hand savaged.
Timothy The Tortoise celebrated his 59th birthday in June with his usual wild & reckless abandon.
We walked around Lincoln castle walls (G frightened by the height), then toured the majestic cathedral inside and out — massively impressive. On the east face of the tower peregrine falcons are nesting. The RSPB had a little stall with telescopes trained on the site — so we have seen a live wild peregrine falcon.
PEOPLE
Jan: New Year's Day at Marcus & Sandra's. New Year lunch with Richard & Brenda, who locked themselves out of their house as we left so we all spent lunch worrying how we would get back in.
To Aberystwyth with sister Jo for our aunt Mari's funeral, aged 101. Burial in Llanfair.
Feb: Rachel's birthday party. We set off for Y's niece Tors & Troy's engagement party in Stortford but the MG breaks down twice and we fail to make it.
Mar: St. David's Day in Kent with Clwyd & Jackie. Barbara & Craig over from Long Island.
Apr: London Book Fair dinner with Lorraine & David, Jennifer, Shatzkin & Cader. We ask for a doggy bag. The restaurant refuses, citing 'Elf & Safety. Lunch with Von's aunt Jean in Tunbridge Wells, with Mike & Lis. The fire alarm goes off 13 times despite Mike & G's best efforts to sabotage it. The loudest lunch we've ever had.
May: Wim and Moni come over from Utrecht for lunch. Then we go to Catalonia.
Jun: US of A.
Jul: Yazzer's party in Lincolnshire; a very active weekend. The party ran from 2pm to 11pm. Constant drinking and G managed to stay sober. A lavish party — Laurent Perrier champagne throughout, sit-down dinner for 70 people, and to entertain us she had three singers, a magician and topped off the evening with Julie Felix singing and playing for an hour.
We went to a 90th birthday tea party, a friend Von's mother Betty made when she was at college in 1943. It was dull, dull, dull. We sat at a table with six other people who only spoke in monosyllables. They answered questions as briefly as possible, never asked any, had no curiosity or interest. They sat in silence unless spoken to. G gave up after about half an hour. God, it was boring. Still, it was held in the Bishop's Palace so there was interesting architecture and lovely views over Lincolnshire.
Lunch with Fred & Heidi in Chalfont St Giles.
Margaret's birthday party on Romney Marsh; gorgeous weather after days of rain.
Aug: G's bro Richard's official 80th birthday party. He shouts at Milo. Lovely day.
Sep: Go to Alan's Big Chilli Fest in Brighton. An excellent day out in Y's 17-year-old MGF, and a chance to blast G's sinuses. He's beginning to get some sense of smell and taste back. Must be Alan's chilli.
Dylan's in Criccieth with Noreen, Rod & Chris, with Menai oysters — the best oysters we've ever eaten. Another Epiphantistic moment.
Oct: G meets up with Barbara in Frankfurt. Book posh restautant in Bad Homburg for dinner. The only two people in the restaurant.
Nov: Helen's book When Bad Things Happen In Good Bikinis is published. Inspired by her astonishing blog Planet Grief, it relates the journey of her coming to terms with the death by drowning of her husband John, G's first boss and very good friend.
Astronomic gastronomic weekend in Kingston Bagpuize with Caroline and Islwyn.
Dec: Varsity match with Marcus & Sandra. Stortford for Louise's birthday. Cheesemas with Quentin & Suba. Discover Tors & Troy are getting married in Sorrento next August. Book plane tickets now.
CHRISTMAS
We were thrilled to be invited to spend Christmas with our niece Emily and husband Alex in Hampshire, and their children Octavia, Albert and Isidora, third niece Birdie with her husband Mikey and son Barnaby, and G's sister Jo with bro-in-law Paul. Plus of course our hound Milo, Birdie's Pumpernickel and Emily's cat Pudding, not seen for two days. While we were at church Milo sneaked upstairs and ate a whole Terry's chocolate orange, including the foil wrapping. No ill effects for him, except dogs are henceforth banned from Ewshot House. Apart from that, there were no tantrums, no tears, no fights, just superb food, lashings of Champagne 'n' Wine, great company and a great time. We are lucky to have such family.
Bless you all.