Thursday, June 5th, 2008
I love the Royal Academy's Summer Exhibition. It's a sort of Open Access for artists, "the RA goes fotoLibra." And there is conventional, understandable art as well as some more, shall we say, recherché work.
In fact the more I look at the wilder excesses of the art world the more I fret about my homely, suburban, conventional taste. A clip on BBC Breakfast TV this morning showed Von and me looking bored in front of the (non-working) shagging zebra — I think it's called "In The Old Fashioned Way" — in the Tracy Emin-curated Room VIII, designed to SHOCK. But I'm so cynical nowadays that nothing shocks me any more, except perhaps the prices the artists are attempting to charge. Most of the stuff in Tracy's room wasn't for sale, but have a look at this: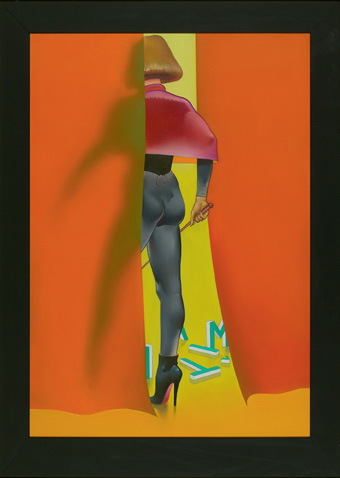 London Derrière by Allen Jones RA, yours for £70,500. Surely only Tory MPs could afford or want this?
I did enjoy Michael Craig-Martin's works "Lust" and "Death", unpriced but certainly more than I could afford: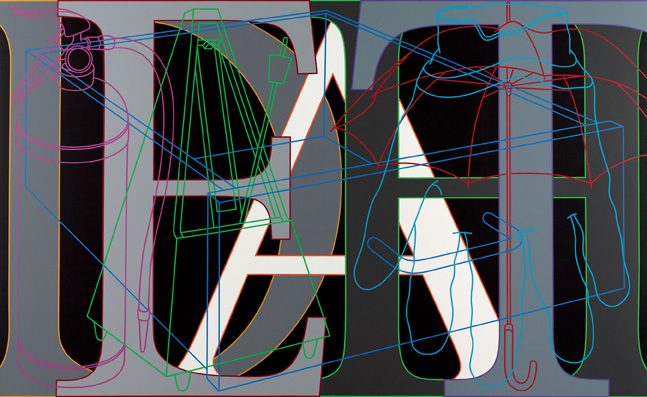 and with the enjoyment of a child attempting to decipher a picture puzzle I found a fire extinguisher, metronome, glove, umbrella and drawer. What does it mean? Haven't a clue.
His "Self-Portrait" was highly ingenious, a line and tone image on an LCD monitor which when I turned back to it after 5 minutes had imperceptibly changed colour and carried on doing so presumably at random and ad infinitum.
The Small Weston Room was packed wainscot to ceiling with tiny paintings. Next to the Architecture room, this was where I felt most comfortable. In my dim, middle class, middlebrow way I remain impressed by people who have mastered their craft, and are not afraid to show it. I wouldn't mind an introduction to Nicholas Granger-Taylor's model "Lucile", either (£11,000 to you).
Some of the paintings here approached affordability. Several were under £1,ooo. But the Summer Exhibition is not simply a selling show; it's an annual slice through Britain's artistic life. Admittedly to my mind the Refusés have taken over the Salle, but it shows that conventional painting is not dead yet.
And if I could walk away with one piece? It would be the stainless steel ping-pong table by Ron Arad.
Not For Sale.