Friday, May 29th, 2015
I came across a slim volume buried in the depths of an old bookcase in our house in Harlech  — "The Song of Tiadatha". I sat down and read it from cover to cover. It didn't take long. And when I finished it, my eyes were wet with tears.
If you are short on time, just scroll to the end of this blog and please read the stanza which comes after the * * *. I personally feel this stands among the most moving pieces of war poetry ever written, especially in contrast to the flippant optimism of the opening chapter. One of those stretcher bearers could have been the artist Stanley Spencer.
 "The Song of Tiadatha" is a long poem of eighteen chapters over 114 pages, completed in September 1918, reprinted from the Balkan News and "Published During The War: Salonica" as a very poorly printed little booklet.
It takes place in the almost forgotten Balkans Campaign of World War One. Here's some background about the little book: the introduction, the whole of the amusing Chapter I, and an extract from the harrowing Chapter XII.
The author was Capt. Owen Rutter ("Klip-Klip").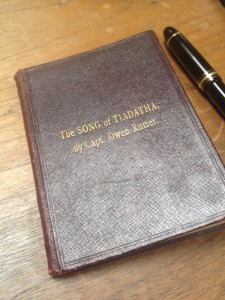 INTRODUCTION
   "The Song of Tiadatha" might well be called "The Song of the Salonica Army." It first made its appearance in the columns of "The Orient Weekly," and by the time two or three instalments had appeared requests came from every quarter asking that the fascinating story of "Tired Arthur" should be completed as soon as possible, and issued in book form for the further delight of its many admirers. This was easier asked for them complied with. All sorts of urgent messages were sent to the Author, insisting on the fame that was awaiting him, but he was extremely busy with his military duties up on the Doiran front, and in the intervals of raiding the Bulgars his serio-comic muse did not flourish too easily.
But bit by bit the pleasing fabric of "The Song of Tiadatha" was built up, and we are happy to be able to present it at last in complete form. "The Song of Tiadatha" is unique in war literature. It tells a story which is common to very many members of the Salonica Army, and tells it in a fashion which is a most happy blend of descriptive realism, humour and sentiment. Longfellow's metre has often been copied before, but I think never so well as this and certainly never with such happy results. Floating as gently along as Hiawatha in his canoe, we follow Tiadatha's adventures from the day when he ceases to be a "nut" in St. James's Street, joins up and goes to France ; we come with him to Macedonia, and accompanied him as he does the hectic round of Salonica's dubious amusements; watch him building his dug-out up in the Doiran front ; share his feverish activities during the nightmare experience of the Great Fire; attack the frowing Bulgar Mountains in his company and finally, with much good work well done, go back to England with him on leave – and look enviously on as he takes to his arms again his green-eyed Phyllis.
There is something in "The Song of Tiadatha" that all of us have experienced. That is one reason why is appeals so strongly to the B.S.F. But another reason is that "The Song of Tiadatha" is something absolutely our own. Nobody can appreciate it to the full who has not belonged to the great family of the B.S.F. And as you men of that Army have had trials which have been peculiarly your own, so it is right that you should have a pleasure in which nobody outside the family can fully participate. — H. C. OWEN
CHAPTER  I — The Joining of Tiadatha
Should you question, should you ask me
Whence this song of Tiadatha?
Who on earth was Tiadatha?
I should answer, I should tell you,
He was what we call a filbert,
Youth of two and twenty summers.
You could see him any morning
In July of 1914,
Strolling slowly down St James's
From his comfy flat in Duke Street
Little recked he of in those days,
Save of socks and ties and hair wash,
Girls and motor-cars and suppers;
Little suppers at the Carlton,
Little teas at Rumplemeyer's,
Little week-ends down at Skindle's,
Troc and Cri and Murray's knew him
And the Piccadilly Grill-room
And he used to dance at Ciro's
With the fairies from the chorus.
There were many Tired Arthurs
In July of 1914
Then came war and Tiadatha
Read his papers every morning
Read the posters on the hoardings
Read "Your King and Country want you."
"I must go," said Tiadatha
Toying with his devilled kidneys
"Do my bit and join the Army."
So he hunted up a great-aunt,
Who knew someone in the Service,
Found himself in time gazetted
To a temporary commission,
In the 14th Royal Dudshires.
Straightway Tiadatha hied him
To the shop of Bope and Pradley
Having seen their thrilling adverts
In the tube and in the Tatler.
Pradley sold him all you needed,
Bope a lot of things he didn't
Pressed upon him socks and puttees,
Haversacks and water-bottles,
Made him tunics for the winter,
Made him tunics for the summer,
And some very baggy breeches.
Then he choose his cap of khaki,
Very light and very floppy
(Rather like a tam-o'-shanter),
And a supple chestnut Sam Browne
Quite a pleasant thing in Sam Brownes,
Rather new but very supple.
Many pounds spent Tiadatha
On valises, baths and camp beds,
Spent on wash-hand stands and kitbags,
Macs and British warms and great-coats
And a gent.'s complete revolver.
Then he went to Piccadilly,
Mr. Wing, of Piccadilly,
Where he ordered ties and shirtings,
Cream and coffee ties and shirtings,
Ordered socks and underclothing.
Putting down the lot to Father.
Compass, torch and boots and glasses
All of these sought Tiadatha ;
All day boys with loads were streaming
To and from the flat in Duke Street
Like a chain of ants hard at it
Storing rations for the winter.
"One thing more," cried Tiadatha,
"One thing more 'ere I am perfect.
I must have a sword to carry
In a jolly leather scabbard."
So he called the son of Wilkin
Wilkin's son who dwelt in Pall-Mall
Bade him make a sword and scabbard
And the mighty son of Wilkin
Made a sword for Tiadatha
From the truest steel he made it,
Slim and slender as a maiden,
Sharper than a safety razor,
Sighed a little as he made it,
Knowing well that Tiadatha
Probably would never use it.
Then at last my Tiadatha
Sallied forth to join the Dudshires,
Dressed in khaki, quite a soldier,
Floppy cap and baggy breeches,
Round his waist the supple Sam Browne,
At his side the sword and scabbard,
Took salutes from private soldiers
And saluted Sergeant-Majors
(Who were very much embarrassed),
And reported at Headquarters
Of the 14th Royal Dudshires.
Even as a fish whose lifetime
Has been spent in pleasant waters,
Shady waters of a river,
Feels by when some turn of fortune
He gets plopped into a cistern
At a comic dime museum,
Finds himself among strange fishes
Finds his happy freedom vanished
Even so felt Tiadatha
On the day he joined the Dudshires
But he pulled himself together
Found the Adjutant, saluted,
Saying briefly "Please I've come, Sir."
Such was Tiadatha's joining.
CHAPTER XII — Tiadatha's Battle (extract)
Painfully and very slowly,
Somehow Tiadatha stumbled
Back towards the dressing station,
Back through crumps and bursting shrapnel,
Met two crawling wounded privates,
And they helped and helped each other
Till at last my Tiadatha
Found himself upon a stretcher,
In the crowded dressing station.
There they tended him and dressed him,
Midst the groaning of the wounded,
Midst the raving of the battle,
And the padre, bending over,
Murmured, "Well done, Tiadatha,
Anything that I can get you?"
And my Tiadatha answered,
Smiling through his pain he answered,
"All I want's some beer, old Padre,
Just one bottle very quickly."
* * *
Had you been there when the dawn broke,
Had you looked from out the trenches,
You'd have seen that Serbian hillside,
Seen the aftermath of battle,
Seen the scattered picks and shovels,
Seen the scraps of stray equipment,
Here and there a lonely rifle,
Or a Lewis gun all twisted,
Seen the little heaps of khaki
Lying huddled on the hillside,
Huddled by the Bulgar trenches
Very still and very silent,
Nothing stirring, nothing moving,
Save a very gallant doctor
And his band of stretcher bearers,
Working fearless in the open,
Giving water to the dying,
Bringing in those broken soldiers.
You'd have seen the sunlight streaming,
And perhaps you would have wondered
How the sun could still be shining,
How the birds could still be singing,
While so many British soldiers
Lay so still upon the hillside.