Friday, September 16th, 2016
Last night we went to see The Blues Band at the Millfield, ten minutes from us.
A bunch of old guys playing 12-bar blues. What's not to like?
The sight of four bald bespectacled white men in their seventies playing black men's music from seventy years ago is a spectacle in itself, an anomaly singer Paul Jones himself alluded to when he quoted an old black musician as saying "Dem white boys want to play da blues so bad. And dey do, dey do."
Yes, that Paul Jones. Lead singer of Manfred Mann. #1 hits with "Doo Wah Diddy Diddy", "5-4-3-2-1", "Come Tomorrow" and many other hits of the '60s. And one of the guitarists was Tom McGuinness, formerly of McGuinness Flint and also Manfred Mann.
I was never a Manfreds fan. I thought their pop songs were trite and there was a whiff of selling out, because they were clearly serious musicians. Paul Jones was one of the best harmonica players I'd seen, but there was something about him I couldn't put my finger on. Perhaps it was his terrible acne. He had a fine strong voice which left me unmoved; for me it lacked soul.
But there was no denying he genuinely loved the blues. 37 years ago he started The Blues Band, and apart from the drummer (originally the Flint of McGuinness Flint) the personnel has stayed the same; left to right: Dave Kelly, bassist Gary Fletcher, drummer Rob Townsend (ex Family), Paul Jones and Tom McGuinness.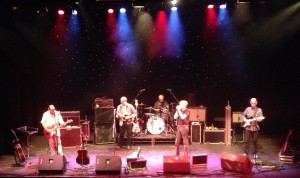 I said four bald bespectacled white men in their seventies. There are five in the group. Paul Jones is a wonder of nature, as my friend Martha would say. He's 74, trim, slim, active, fit, with a full head of fair hair. Frankly, he looked great and he sounded great. The acne's been vanquished. His voice was as strong as ever, and he even sang an uncannily accurate snatch from the Newbeats' 'Bread & Butter' (check it out).
I am consumed with jealousy, but as Von whispered, "He probably doesn't drink beer and watch telly all the time."
Persiflage comes easily to some; for others it's a strain. The band attempted to banter with the audience, but it was leaden and predictable. You've got it or you haven't. Americans have it built-in. They played with an ease and a slackness which wouldn't be tolerated in an ultra-tight US band like Little Feat, but as they said, the 12-bar blues is a British invention — the original bluesmen wandered between 10 and 15 bars as and when they felt like it. I remember when I played with John Lee Hooker in 1965 he generally preferred the 13- or 14-bar blues until we got accustomed to it, at which point he'd savagely switch back to 12-bar and glare at us accusingly.
The audience adored it, a sea of silver heads nodding in near unison, and although it would be cruel to criticise the performance as static and anodyne, the band made Lloyd Cole and the Commotions look like a tumbling act.
Will we be seeing elderly white grime rappers in 2070? I won't because I won't be around. But I loved The Blues Band; it's what I always wanted to do, but wasn't quite good enough.
We got back home, a hot sticky night after three glorious late summer days, including the hottest day of the year on Wednesday — 94°. I was woken at 4am by four things — the room white with lightning, the loudest clap of thunder I think I've ever heard and Bembo and Milo simultaneously leaping into the bed. A fortnight's worth of rain fell in an hour.