Saturday, May 31st, 2008
Every Saturday morning I like to lie long in bed, listening to Brian Matthew's Radio 2 programme 'Sounds of the Sixties'. It's an age thing, I guess, but I think you'll always love the music you grew up with.
And how I grew up! To be young was very heaven, as the poet saith. England in the sixties was the centre of the universe, London was earthquakingly cool, and Chelsea was its epicentre.
Where was I living in my teens and twenties? Chelsea, of course; not the rich, bloated Arab mega-wealth Chelsea of today, but (excuse me lapsing into historical dialect here) the hippest, funkiest, fabbest, grooviest place on the planet.
The King's Road. Where I knocked down Rudolf Nureyev in my dad's '56 Chevy (he was more shaken than hurt, but he had looked the wrong way stepping off the pavement).
Sloane Square, where I charged round a corner and bowled over a tiny little black woman. I helped Diana Ross to her feet.
And Sloane Square of course gave us the name for our group. The Sloane Squares. Everyone had to be in a group in the sixties, and where better to be based than in Chelsea, the capital of cool.
OK, so we were crap. We were no more than a covers band. The few songs we attempted to write were laughably amateur, in the bad sense of the word. But of course we were THE Chelsea group, and any act who came to play in Chelsea got us as their support band.
John Lee Hooker was the first. We'd turned the crypt of the Catholic Church in Cheyne Walk into a 'night club' called The Mechanical Orange (how far out was that?) and persuaded big names to come and play.
In other venues we supported other acts. Pink Floyd, Jimi Hendrix, Eric Clapton, The Creation, Peter Frampton's Herd, the Small Faces and many more now forgotten or unremembered.
The Faces had been manufactured and backed with a lot of bread — they looked great, but they'd only learned one song and simply couldn't play their fabulously expensive instruments. I showed Steve Marriott the fingering for the D chord (I'm not a great guitarist but I do know all 5 chords) and he was blown away. He'd stuck mirrors on the glorious patina of the soundboard of his thousand pound Gretsch so he could 'mak show' as the Beatles described it. I thought it was sacrilege. He didn't. He went on to fame and fortune. I didn't.
Although we were no musicians, we probably got the bookings because of the way we looked. The other guys in the group were good-looking lads. Lloyd Powell on drums, Nigel Hill on bass, Cuthbert Fry on rhythm, Fred Taylor on vocals and harmonica, me on lead — and we rocked. And we were loud. VERY LOUD.
We also were only group in the area with a travelling gang of bodyguards. There was always a fight everywhere we played. If there wasn't, our bodyguards would start one. More of that some other time.
We thought it was a disaster when Fred left to become a chef. For a while we tried to hack it as a four piece, but we were even worse than before.
Then we met up with Pete Gage, another Chelsea lad. Fred had a good rocking raucous voice, but Pete's voice verged on greatness. He was a belter, a sort of high-class Chris Farlowe. Suddenly we were getting important bookings. He couldn't play harmonica and we needed some extra sound, so we drafted in a guy called Dante Smith on keyboards. We were becoming quite a formidable act.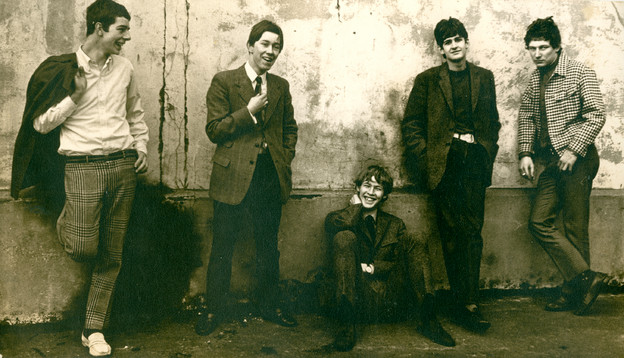 The Sloane Squares, Chelsea, 1966
L to R: Lloyd Powell, Nigel Hill, Gwyn Headley, Cuthbert Fry, Pete Gage
Photo copyright Andrew Lanyon / fotoLibra
In the audience one night was Jet Harris, the former bass guitarist of The Shadows. After the show he came round and bought us drinks. Many drinks. Several times. He drank spirits. I was so impressed. He had so much money. The rounds were always on him. Eventually he started talking about a record.
And that's what catapulted me out of bed this morning. On the Sounds of the Sixties, Brian Matthew announced 'My Lady' by Jet Harris. That was us! Pete Gage (never credited) on vocals, Jet on bass guitar, #28 on the Radio London Hot 40, #1 in Denmark (allegedly). World's shortest lead guitar solo. It was an awful song, a very lame attempt by Reg Presley of the Troggs, and the B side, written by Jerry Lordan and titled 'You Don't Live Twice', was a far better tune.
Well, well. I hadn't heard it in years. I long ago lost the only copies I had.
If you want to hear it in all its glory and faux Joe Meek climax, you can, for the next week. Click here to listen to Brian's show on BBC Radio 2. 'My Lady' comes up after about 50 minutes.
It's truly terrible. But it brings back a lot of memories.
So Pete had clearly hit the big time, and some of the rest of us felt we really ought to be getting jobs, thus the Sloane Squares drifted apart. The last I heard of Pete he had taken over from Lee Brilleaux as lead singer of Dr. Feelgood.
We had a reunion ten years ago, with Fred, not Pete, and we were GREAT!